Screen history Dutchhomepage
Screen until August 21, 2004

The first website appeared when black backgrounds were very popular en special effects like faking light effects in a menu. The black backgrounds are still to find on the internet, but now with metallic look elements. Sometimes flash elements are integrated in these websites.
Screen until June 30, 2006

Looking at the news broadcasts gave the idea for these blue colours. With some Paintshop I developed some little windows to divide my home screen in squares. Disadvantage with this screen is it looks a little bit too dark. After already 2 weeks the broadcasts on television had light blue colours, so new thinking about something more topic had to be done.
Screen until July 20, 2006

Looking at commercial news broadcasting and RTL Z gave the light blue colour for a new website appearance. The dutchhomepage logo en the windows existed by new photoshopped photograph parts made at the Sail in Amsterdam.
This website was build with frames at that time. For Photographs and Website building there was a separate menu on the left, while the other items were available in the menu on top.
Screen Home from April 6 2007

The base for this screen is already created on august 3, 2006. With the difference a left menu was available in the screen and the backgrounds were blue in stead of the transparancy which is available for some browsers now.
The typical square in Dutchhomepage.nl stayed the same. This makes it possible for small screens to look at the whole website without horizontal scrolling.
Screen Home from juli 9 2009

Updated sep 12th, 2001: The website needed a facelift. The menu is a one rule menu with CSS 3. Subjects are in the menu and in the footer. The menu shows highlighted where you are in the website. Due to the limited storing space the movies are uploaded at Youtube and linked on the website in the footer.
Screen Home from march 29 2013

Confronted with larger screens and as result a nearly disappearing website, I choosed for a full screen website with 100% width. Made for larger and smaller screens. With a scrolling away picture in the header, text will be visible a lot faster. The large background of the former website is now history.


Website changes: flexible websites
Update: August 29th, 2015
I already told here HTML5 is nowadays main stream, accessibility of websites easy by plain one rule menus. CSS 3 is used all around. Mobile websites and apps already became common.
Next development is the flexibility of websites responsive web. You want them to look good on every device. The smartphone, I-phone, I-pad, a computer screen, but also large television screens are used nowadays to look at your website.
"Responsive web design (RWD) is an approach to web design aimed at crafting sites to provide an optimal viewing and interaction experience easy reading and navigation with a minimum of resizing, panning, and scrolling across a wide range of devices (from desktop computer monitors to mobile phones)." (quote source: English Wikipedia)
That's why I made my website fluid as possible in both screen size and content to browse with WIFI.
And yes, I stay curious about the next development in the website HTML world!
3 october fever
3 october 2004 fever took over in Leiden, a city in the west of the Netherlands. It's not a national celebration, but a local. Some villages in the region also take part in the festivities. It's even a day off in Leiden. Don't try to ask someone in the east of the country what it is, after all these years I have to explain again what 3 october means! This year 2011 the theme even sounds good in English: "High Leids!".
Herring, white loaf and hodgepodge
The nowadays people celebrate 3 october with herring, a white loaf and hodgepodge. You might find it weird, but it refers to the history. The hodgepodge is what the Spain left on their hurry-flee from Leiden in the night of 2 and 3 october 1574. No, you read the year right, 1574 and yes, we still do celebrate the Spanish soldiers flee from Leiden with huge festivities.
Cornelis Joppensz, a little boy, not a big spy, found the siege desolated, Valdez and his Spain soldiers hurried out of town.
Mmmm, I nearly forgot the herring and the white loaf. De Watergeuzen with their leader Boisot took this with them for the famished citizens during Leidens relief.
Next to say.. Pigeons. No, not for consumption: Good to eat though, but not everything is food in life. I was referring to carrier pigeons. The Prince of Orange sended some carrier pigeons with the message liberty was near for Leiden's citizens. That's what cheers one up!
The town clerk Jan van Hout and commander Jan van der Does didn't want to know about any surrender, while the people had their doubts with awfull hungry stomachs. The legend on paintings is that the mayor Van der Werff offered his arm to the hungry people. I would rather go for the carrier pigeon, but I don't know if this was allowed these days. Van der Werf became a large statue in the Van der Werf parc (logical name by logical Dutch).
The Dutch Republic became independent. As a staying listed building the Prince of Orange gave a college to Leiden, nowadays an university, which opened on februari, the 8th 1575, yep, 3 months after the liberation of these scoundrels from Spain.
The 3 october joining organizes every year their festivities, they started their first in the year 1886!
Well, that's some of the history. Deam, I'm hungry, let's see what's in the refridgerator.
Rubens, Van Dyck & Jordaens, Flemish painters from the Hermitage
Catharina the Great's collection collected a rich gathering of of Flemish paint art, an amazing 4000 pieces. With some luck, she bought also from her own husband czar Peter the third, because the war was too expensive. This article describes how I experienced the new exhibition.
Rubens himself
Compared with his Spanish collegues who painted with a trendy -these times- flat style, Rubens paintings are like Water and Earth, you should see this majestic painting. How Antwerp and river Schelde belong to each other. There is an understanding on the face of the woman, she knows she belongs to him. While you don't see him, you look on his back. I didn't took a nude detail photograph from the catalogue, you should see it for yourself!
The cat with appetite
What else is there to see? Some awesome animals. With hairs all over their bodies, you nearly approach a painting too close to look at these hairy creatures. The cat discovered a dead heron hanging from a table. It smells whether it's tasty enough, some say it already bites.
This is a part of a painting by Frans Snijders (Antwerp, 1579-1657), in which it's all about dead birds and a cook who want to prepare them.The feathers of these birds look very authentic. I also looked some time to the lions. They look similar to real ones. I can tell, I went to Artis zoo afterwards!
Thinking young man
What also catched my eye was an unusual informal portrait of Michiel Sweerts (Brussel 1618-Goa 1664). Like Erwin Olaf just photographed his face with long hair. It might be a self portrait, but the Hermitge is not sure. A young man resting his head on his hand hanging on a table looks at you thinking. Thinking about what?
It's that he has clothes on of his own time, but his face is timeless. And is he looking at us? Even there I'm not sure, he looks around us, I guess.
Jacob Jordaens huge family
Not his (Antwerp 1593-1678), his father's huge family. I wished I had a brother who could properly paint the whole family. He has something over him like he's saying: "I belong here, I'm confident."
He probably even didn't forget the passed away babies: above the family souls fly around their heads. And the characters are also visible, a serious looking father, a caring mild mother, courtly sisters to the young siblings.
The abundance of grapes
Still lives with too much grapes to eat, unless you live in a family like Jacob Jordaens. I like the shiny glazed fruit, the juicy appearance of the fruit and the used green curved Chinese dish in the painting.
Adriaen van Utrecht (Antwerpen, 1599-165) painted all these details, but somehow temporary, a crack in the wall in the background showed the vanity of this world.
Have a look for yourself!
For sure you also look at other pictures in this exhibition, like the fighting dogs, the huge amount birds in one painting, the playing cards group. And of course the denial by Petrus, does the man at the right believe his story?
Visiting information:
Adress: Hermitage Amsterdam, Amstel 51, Amsterdam, The Netherlands
When? september 17th, 2011 - march 16th, 2012
More information aoout new expositions: Hermitage Amsterdam, go to English mirror
Source pictures: details from the catalogue in my possession: Rubens Van Dyck & Jordaens, Vlaamse Schilders uit de Hermitage [available at the exposition in the museum shop].
The last Tsar pair in Hermitage Amsterdam
Normally I would give a short introduction, but I think the exhibition of this month's link is too important and far too interesting to introduce with some more time.
It's a dramatic story which is shown in the Hermitage in Amsterdam: the fall of tsar dynastie of Nicolaas II and his family. They were executed by order of Lenin juli 17th 1918, a time the world seemed to get more cicilized and the industries started to come.
The most confronting issue is you get a view in a cultural developped family which lifes end in a drastic and tragic way. Aleksej Nikolajevitsj, the Tsarevitsj only became 14 years old, his eldest sister of three sisters, Tatjana Nikolajevna only became 21 years old.
The cause is more difficult, but probably a mix of following reasons. The ignorance of what happened in the world outside the high society. The modern times which came and were denied by the couple who wanted to stay the rulers. The family which was far more important to Nicolaas then being a Tsar. Last thing which I came across in the book was the young age Nicolaas had to ascend the throne.
Looking the exhibition you feel yourself a voyeur, especially in the family part of the expedition. Because the boardgame was on the floor behind glass and I wanted to have a close look at it, I had to kneel. To my own disbelief a dignified lady did exactly the same to have a closer look also. Then I suddenly realized what I was looking at. The youthfull ages of the four children of Nicolaas II and Alexandra.
Another part of the exhibition is the imposing crowning of Nicolaas II. It looked the biggest coronation held ever. Only 1500 men took care of the preparation of hanging the guirlandes and the illumination for the festivities. A lot of royals (mostly crown princes) came to Moskva to be a witness of this holy celebration. One of the paintings gives an impressive overview. The heads looked 3-dimensional to me, so real, and the details of the clothes and hairs were astonishing. The miniature symbols of the imperial authority still twinkle in my eyes: gold, silver, diamonds, pearls and sapphires.
The book Nicolaas Alexandra, the last tsarpair is probably still available in the museumstore.
Available at Hermitage Amsterdam
Extra link to look at is the Hermitage St. Petersburg:
Hermitage St. Petersburg (search for it in searching machine)
Pictures (parts) from the book Nicolaas Alexandra, het laatste Tsarenpaar, publisher Waanders Uitgevers, Zwolle, The Netherlands in order of Hermitage Amsterdam, ISBN nr. 90-400-9002-5.
Rineke Dijkstra - Portraits
To see the photographs in this article you must allow links to other sites outside my site. It might take some time to load the whole webpage. If one of these pictures is not available, please inform me.
Pictures are all in the catalogue Rineke Dijkstra Portraits, available in English and Dutch, publisher Schirmer/Mosel, SMA catalogue 881; 160p. NL/EN. Price: Euro 27,50 (paperback)available at the exhibition (stands of course on my bookshelf).
When you search in Google to look for Rineke Dijkstra you'll find over 10.000 hits worldwide, and this already emphasize Rineke Dijkstra is not just a common or just a well known photographer. I think she's a great photographer not only because she is well known. Earlier I wrote on my webpage about Amelia Troubridge, also a female photographer. I think Rineke Dijkstra has one comparison with Amelia Troubridge by photographing the persons in a natural way.
If you don't know her photographs with changing Olivier, the French Foreign Legion from innocent adolescent with open view to discover the world to adult life experienced soldier with pictures through the years, you missed one of the most confronting and precious portraits you may ever witness. You should see them if you like personal photography!
I heard in the City Museum C(entral) S(tation) in Amsterdam speaking she is even known in the Guggenheim collection, which undoubtedly is true. But if this would be your reason to visit this exhibition to look interesting, I think you miss the whole point of her work. It is your own interpretation what counts, your own discovery and ideas which pop up in your mind visiting the exhibition.
One of the first things I already noticed in "NRC Handelsblad" newspaper was the way the persons who were model for her portraits were somewhere pasted on the background. They were there yet not in their environment where they stood, while they really were in the environment for real. Like she took her models and pasted them on a background.
Another aspect which struck me most was the vulnerability of the persons on the one hand and at the same time the shock of innocent adolescents getting realistic adults at the other hand by just after giving birth, just after a bullfight, getting a soldier, going out with the perspective still having the youth in their faces.
Another thing which amazed me was the Tiergarten pictures. The youth is photographed like they just by incident appeared in the woods. Some adolescents already show already their own adult like character in the opposite some small children show uncertainty not knowing what to expect. The light through the forest she has chosen for these pictures falls slowly along their faces, sometimes just hitting one site of the face, which makes these photographs to jewels. I personally like the late sun in a face during autumn or in the late summer. It just shines the face to emphasize some characteristics of a face.
I think it's a pity her newest work in the Vondelpark is not catalogued. I really loved the way how she on a natural way photographed the 4 young people: one laying on the ground , the other sitting a little bit bored but curious looking in the camera! We should all have the right to get a free additional little book with these nice pictures in the Vondelpark (last remark was a joke, nevertheless I would like to show them some people). I thought for a minute Rineke Dijkstra really knows what I like in a picture, but of course she doesn't know me.
Search in Google for an exhibition in your own living area by typing Rineke Dijkstra and large cities which surround you.
Hermitage - Silver wonders from the east
To view the photographs you have to allow links to other sites. It might take some time to load the photographs. Might one of these pictures not be visible, please give me an email.
Photographs are from the catalogue Silver Wonders from the east, Filigree of the tsars (English), publisher Waanders, ISBN 90 400 8227 8, price approxemately: € 22,50 available at the exposition (and of course the Dutch version on my bookshelf).
"Filigree is a remarkable method in jewellery making in which very pure precious metal is drawn into extremely fine threads. Hundreds of metres of thread can be drawn from just one gram of silver. These threads are then ingeniously interwoven to produce almost transparent objects. They are wonders of technique and refinement. The name of this ancient technique combines the Latin words filum, thread, and granum, grain." (Source:website http://www.hermitage.nl/en/)
...be confronted with the Catherine the Greats toilet set... it was more shocking then I expected


A good explanation which I couldn't explain better in English. I already knew from the site of the Hermitage in Amsterdam I would be confronted with the Catherine the Greats toilet set, but walking into the room where this large set was showed, it was more shocking then I expected: with the size of long buffet chest, here stood a long toilet table with on this the 32 pieces, from a crab silver art piece for face moisturize until a large mirror. Mind you, we're not talking about a diner table, but a toilet set table! This large table with all these pieces was probably situated near the bedroom in a separate toilet room.
Peter the Great and Catherine the Great collected a refined collection which won't be around a lot because much is lost or even melted to other objects. To those who love bling bling should have a look, the Hermitage in Amsterdam tells us about this exhibition and mind you they're right. The eye-catching refined silver from China, India en Indonesia only was represented in distinguished circles. It belonged to the life style, even men had their own toilet sets.
Stand in the form of a leaf is a refined work with directly visible naves. This incredible detailed piece is from China (dated. 1740-1750). By several connections the stand is steady, but the little flowers still seem to float above the stand. (see also detailed picture under the next one)
William the III of Orange writing box with a little draw in the bottum for paper with a little key hole is one of the most beatiful pieces which is luckily saved, there's not much left from the silver from this time.
What intrigued me also was a Chinese colourful basket and, a detail of this you see below here. With watercolour and especially enamel this basket gets a lot more fascinating. Also a hand fan with the same materials was very fine.
This exposition is closed, look for current exposition at the Hermitage in Amsterdam, Nieuwe Herengracht 15 in the neighbeirhood of the Stopera (open daily from 10.00 until 17.00).
From Exposition: Art Nouveau
Now in Hermitage Amsterdam: Jugendstil, the Wiener Sezession and Art Nouveau
From October, 13th 2007 until May 5th 2008 a great exposition in Hermitage Amsterdam marks the time round 1900 with great Art Nouveau. Some things might look a little bit too much, but the variety in objects in this exhibition makes this exhibition easy to access.
Furniture, table, chair, book, statue, vases, lamp etc., all these attributes have a romantic atmosphere, if you would like to give your lady or man some romantic atmosphere you should invite her or him to this exposition, I bet she or he will love you for this. I presume ladies/some men did not read this secret message.
More information and previews about this exposition: Hermitage Amsterdam website
This exposition is closed, look for current exposition at the Hermitage in Amsterdam, Nieuwe Herengracht 15 in the neighbeirhood of the Stopera (open daily from 10.00 until 17.00).
From Art: Danny Dogger
Art doesn't need only details to be great


Since nearly my websites existence I have a link to Danny Doggers website who paints modern art in a way I really like. Some time I didn't visit his site, but since I saw his renewed website I like to share this with you.
Art doesn't need only details to be great. At least that's what I like in Doggers work. With fat black lines he created since he was a kid his own style by making schedules on everything he could draw. In a few fat lines filled with bright colours he manages to create several specific Dutch themes with bright colours.
Since he renewed his website it became a festival unity. You should visit his gallery and watch for yourself. Danny Dogger is modest about his work, but I think he deserves a far more larger spotlight then he already has. It's not only attractive for adults, but also for children. Although his work shows simplicity, it's not easy to make it yourself. Just try to make expressions with some lines, it's not easy.
Broadcast Flevoland made a nice portrait about he works and some about his private life, search in his website Danny Dogger (Dutch interview).
To learn about the artist from his website: Danny Dogger, section Profile.
To go to his site press the box above this article, but I guess you already noticed the link before you finished my text.

Source pictures: http://www.peterdoeswijk.nl. If pictures are
not visible Peter Doeswijk website might be under construction,
they are linked directly.
Walking through Amsterdam center you have to come across his art work. Some artist don't really need any introduction. Or maybe you're not aware you already saw something he created or helped with the object existence.
Some artists don't reallyneed any
introduction


Allow me to help you what you might came across once: Posters with 1200 kisses from 1200 persons on the building fences of the North South line in Amsterdam. Yes, his idea! I saw tourist English girls photographing a nice kissing lad. Ohhhh, he's so cute! Another girl: "This one!" I really hope it will come back once. It charmed quite a lot tourists and it made them smile!
Usually I give some background information about the artist. But on his website Peterdoeswijk in Amsterdam. I couldn't find any. But is it really necessary to have this information when the art expresses some of his person? One of the issues will be a lot of time he spends to create his projects. Another thing must be cooperation. For instance the Christmas tree project with ROC students building Christmas art trees, who didn't see them near the Stopera?
Another thing he arranged were show-boxes at the inside of the building fences from the North South line. Ask people to make boxes for the fencing. A brilliant idea, but you have to thinks about this. A range of variety in boxes will turn up and children love to look in every box. I better don't tell adults are even more curious, when children want to walk on after watching some time.....
Do you know how a shop looks in this world. If you say yes, I tell you: "No, you don't". Some shops were amazing in the project showing only shops at the same building fences at the Vijzelgracht. The photographers Frits Phoelich (Ghana), Petra Hart (Bali), Robert Jan de Vries (New York) en Peter Doeswijk (Istanboel) watched for every eye catching shop. You also learn from these pictures selling means different strategic plans in the countries all over our world.
All these projects passed already and are not longer to see, I can't wait for a next project!
I only told you about his projects, but I shouldn't forget to mention his art. In his shop at the Vijzelgracht 11 in Amsterdam he sells furniture and paintings. I like the furniture the most. A cup-board doesn't have to be boring when it has a funny Amsterdam house front with bright colors. Or a writing desk, should it always be boring? No! Majestic something like an organ (that's how I see it) Peter makes it he likes most. I guess you already had a look on his website, if you didn't you better have a look right know at Peter Doeswijk's website.
From exposition: Resistance Museum Gieringer family (Dutch: Verzetsmuseum)
Source pictures in this text: http://www.verzetsmuseum.org/museum/nl/exposities/tijdelijk,geweest/eva-s_verhaal
Of course it's not the great artistic value which attracted my attention to the paintings, but the intensity how the father and son Erich en Heinz Geiringer felt during their hiding in the Second world war came from the canvas. Feelings you can't imagine living in freedom.
"In 1944, the entire Gieringer family was betrayed and put on a transport. On the train from Westerbork to Auschwitz, Heinz told his sister Eva that he had hidden the paintings under the attic floor of their hideaway address. After Eva and her mother survived the horrors of Auschwitz concentration camp, they found the paintings with a moving note: 'Property of Eric and Heinz Geiringer from Amsterdam who are in hiding and will collect the items after the war.' But Erich and Heinz never returned."
Source quoted text: http://www.verzetsmuseum.org/exposities/vastexpo/vastexpobas.html
Before you enter the permanent exposition of the resistance museum you're able to have a good idea why people tried to resist and protested in Amsterdam to support the Jews. But executions made a quick end to the protest and only very secretly resistance was finally possible to try to save the Jews for a certain faith which mostly ended their existence. 30 paintings are there to admire, some express hope to better circumstances, some show the despair of these scaring times. They lived in the River neighbourhood (Rivierenbuurt) not far from the Anne Frank family and after the war mother Eva Geiringer married with Otto Frank. The other survivor daughter Eva Schloss lives in England these days. She wrote the book: Herinneringen van een joods meisje (Eva's story: A Survivor's tale by the stepsister of Anne Frank).
(This temporarily exposition about the Gieringer family closed on April, the 8th 2007)
From exposition: Kors van Bennekom
Mrs. Van Bennekom taking a shower in the kitchen with a tube connected to the tap connected to the shower head. And to drop the used water a vessel. And a shower door round it. An ashlar kitchen sink with an old geyser above it. A romantic view for those who once experienced not having a separate shower room. And this is only one photograph in the exposition to celebrate photographer Kors van Bennekom's 75th birthday in FOAM Amsterdam.
Kors van Bennekom's family does not act before the camera when he shoots a picture. What you see is daily life, it only happens there is a camera, but it looks nobody in his family take notice of the camera. And not only his family, also the Amsterdam citizens, mostly workers, don't notice the photo camera. The exposition gives nostalgic views in the fifties, sixties and seventies. For youngsters it might open an earlier world they had no idea about. People lived plain, but where probably more happy with less. Don't forget to take the little staircase to look at the shipper's family.
An excellent best choice by Kors van Bennekom for his exposition in FOAM. Divided in family pictures, plain Amsterdammers, journalistic events and celebrities. But even the celebrities are just human beings. No glamour, but raw material.
The black and white photographs are strong and details are great. A passed time with eccentric Amsterdam workers passes by before your eyes, workers who worked until high age. A shoe maker in paid employment rests in an old leather skirt before a shop in the Warmoesstraat, it doesn't exist anymore. But on the photograph he comes alive.
The exposition was until September 14th, 2008, look at FOAM Amsterdam for current expositions.
From exposition: Black is beautiful
In an extra exposition episode this month the exhibition in the New Church (Dutch: Nieuwe Kerk) Amsterdam: Black is beautiful.
'In the summer of 2008 the Nieuwe Kerk presented a journey of discovery though the history of art. For the first time the attractiveness of the black person in the art of the Low Countries received attention. Many great masters turn out to have portrayed black people. The fascination with them was illustrated in about 135 paintings, drawings and manuscripts from collections here and abroad.'
Source quote: Nieuwe Kerk website
The Netherlands has a dark history concerning slavery, but that's not what this exhibition is about. In this exhibition you discover what the black persons mean in Dutch art during the last centuries. From the oldest paintings in which one of the kings (one black) adores the Child until the painting you see in the background of this article by Erik van Lieshout. The introduction movie was very short, but during the exhibition you will find touch screens (even in English) which tells you round 8 stories about well known persons. One of these stories about a KNILL soldier is really touching.
For the 'jeu' rich Dutch people showed black servants, even a kid, on a painting. Also exotic paintings were important in the Dutch art: looking for the perfect body.
Did you ever hear about Anton de Kom. Well I didn't. He was deported to the Netherlands because he was a communistic leader in Suriname. In 1940 he joined the communistic resistance and he died in 1945 in a concentration camp. I wonder why I never heard about such an important person in Suriname and Dutch history. He published in 1934 the book: we slaves of Suriname.
I like this exhibition especially because it also emphasizes the importance of great influence of many black men and women in history. When I saw Barack Obama passing by I thought: yes, we can, I hope you will.
The exhibiton was open until october, 26th, 2008.
From exposition: The Presence of Mind - Wolfgang Tillmans.
In exposition this month the exhibition in the Municipal Museum (Dutch: Stedelijk Museum) Amsterdam: The Presence of Mind - A choice from the collection by Wolfgang Tillmans.
Born in Remscheid in Germany, Tillmans lived and worked in Hamburg at the end of the 1980s before moving to England. He studied at Bournemouth and Poole College of Art from 1990 to 1992. Since 1996 he has lived and worked in London. About his strong ties to both countries Tillmann said in a 2007 interview with Robert Ayers from ARTINFO: "I fell in love with England and with London when I was there on a language trip when I was 14. That coincided with me discovering Culture Club and the New Romantics and the whole of street culture. And the language and everything else speaks to me. But I don't think I'll ever lose my German-ness. You never lose the culture that you're from. England worked very well as an antidote to my German-ness. It's a good combination for me."
Source quote: English Wikipedia Wolfgang Tillmans
But not all the objects of photographs are from Tillmans. Call the exposition Tillmans and friends. Although the Eyecatcher in this exposition is of course Freischwimmer 118, I was more attracted to a neon light which shows something like bbbbbbbrrrrrrruuuuucccceeee. First I liked the light blue color. Second I liked the coincidence in combination of bruce with repeating the b, r, u c and e. And there is something like a contradictional soft shout.
Looking away you come across a nice black white photograph with 3 heads, but you don't see the faces, only the crops or sites. There is no picture available to show you, but the intensity of this photograph is great.
There are also great strong nudes on this exposition. Fascinating but also subcultured. This also means this exposition is not suitable to those who are offended confronting nudity.
The presence of Mind is an observation of nowadays subculture, it will confront your mind as well. Next to this not too huge exposition you also might have a look at the Vincent award to look some great old documentary like movies.
This exposition is closed, look at Municipal Museum (Stedelijk Museum) for nowadays exposition.
From exposition: Richard Avedon in Foam (exposition was in the past)
FOAM (FotoMuseum AMsterdam) presented the successful exposition with photographer Richard Avedon. For portrait photography admirers it was a real must see.
To describe his work I like to quote where he describes his own work:
"A portrait is not a likeness. The moment an emotion or fact is transformed into a photograph it is no longer a fact but an opinion. There is no such thing as inaccuracy in a photograph. All photographs are accurate. None of them is the truth."
From: foreword to in The American West by Richard Avedon
He also mentioned his photographs as "readers of the surface". Yet the personality looks real, but it is all an act, to be precise: the act he likes the photographed person likes to perform. But most photographed persons look totally at ease and that is very impressive!
FOAM (FotoMuseum AMsterdam), Keizersgracht 609, 1017 DS Amsterdam (see their website for current expositions, entrance price and opening times)
Temporary Stedelijk Amsterdam: Dared presentation with balls of restaurated "old" building part
We waited some time for the first presentation from the new directrix Ann Goldstein, but the first for sure may be there. She presented in the renewed "old part" of the Stedelijk Museum a dared ode to this building with balls (excuse me for the bold language)!
In this exposition stands central especially the beautiful restored building. The building's entrance hall with the staircase spreads in daylight with the new daylight roof is already a party! Surrounding walls show moments of recognition: nice poster with a variety of all the known exhibitions pass which the Stedelijk (Municipal) once knew.
If you just managed to overcome this you're able to admire the exposition "monumentalism" in which a broad view is given by film and sculpture. I can't image you have a big smile watching the moving seniors of Lucia Nimcova!
In the other exposition Taking place you might have a look how artists like to show the renewed building. The Stedelijk describes it as follow: "National and international artists bringh with experimental way the rooms to live and lay a relation with the temporarily and space atmosphare of the unfinished building". You couldn't give this a better description. Rineke Dijkstra with her great movies with children who describe what they see, the amazing you-should-read-all-the-text-room of Barbara Kruger, de twisting circles on the floor (sadly already damaged), the turning mirrors which get outside for a short time in, the triangle in polishing wax, you all should see this!
The Stedelijk is temporarily alive again and even on it's own location, couldn't it be any better?
For more information: Website Stedelijk (Municipal) Museum Amsterdam.
Exposition was until january 9, 2011, photograph from my mobile phone
Stedelijk (Municipal) Museum: Temporary 2
The new head sponsor, the Rabobank, won't regret their support for the next years. Also the second exhibition Temporary Stedelijk Museum was a succes.
In this exposition a great variety of different art objects. It showed the diversity of the collection the Stedelijk Museum has available. From the enorm installation from Donald Judd until square tableware, nice video's with tensions of Keren Cytter, photographs, metal painted furniture, a lot is showed in this exposition. It would be stange if you didn't find something which is of your interest.
Eye catching were the surealistic statues of Willem de Kooning, because what could it be? Every time you think to recognize something, it could be something else. You're never sure.
Also Piet Mondriaan had his place in this expo, for sure to invite tourists from abroad to come and visit the museum. Dan Flavin made some great art light installations in the staircase gallery upstairs.
Olivio Martinez Viera's enormous wall posters, you can't miss them in this expo. Lookking at the measure it couldn't be possible.
Visitors information:
Adress: Stedelijk Museum Amsterdam, Paulus Potterstraat 13, 1071 CX Amsterdam, The Netherlands
Exposition already closed
For current activities: Stedelijk Museum Amsterdam
Chef Special at Uitmarkt 2009

Bron foto: Press kit Chef Special at website Chef Special
photograph by: Michel Mulder
I didn't have a lot of time to spend on the Uitmarkt 2009 (Dutch large manifestation in Amsterdam), no pictures this year. Anyway a short review what was the most remarkable on the Uitmarkt 2009: Chef Special, with some Haarlem (near Amsterdam) guys.
Right at the moment when you think I have already seen this and you nearly would take a nap, luckily Chef Special arrives on stage, refreshing and indeed an outstanding dynamic mix of hiphop, funk and rock; from laidback grooves, to shrieking guitar solos, exactly what they promised to do. And how much the music styles are different, it all looks to cross over very easy. Joshua Nolet, with infallible clearly understandable English in hiphop and singing is nearly sublime. The only reason he sometimes isn't to understand is when the tuning knobs at the Uitmarkt sleeps? For sure they do this better with their own performances!
Remarkable appearance is the lead vocalist: he got of the stage and got accomplished from a public in the age reach 20 to let's say 60 years old nearly everything. With pleasure they sat down and some time later they jumped! And yes, why shouldn't you at the end of the show not climb when you can? Guitarist, percussionist, keyboard player, they're all focused to call for different atmospheres, especially the funky guitar made the most wooden rake in this public sway one's hips! According as their performance went by, the mobile phones did their work, you have to be here! Very soon it got busy...
Probably the close friendship between the band members makes how they are cooperating with each other. I'm convinced a lot of rehearsel takes place. Great to see they also enjoy what they do.
Playing to the highest point is not a problem for these men. With a nice tension they worked to a the point, of course I don't mention it here, you have to look for yourself! But humorous the little scene after this with some slight caused confusion. Their programm? Look at their webiste: Chef Special in Haarlem, The Netherlands. You better have a look! Or invite Chef Special! Then at least something happens!
Annemiek Punt
If you studied my website it's pointless to say I like transparancy effects. It's also with Art, to be exact: glass art. When I was in Delft lately I came across a strong evidence: a leaded light in the New Church in Delft, the Jaïrus daughter. En then you get curious and this brought me on her website (click the logo under to get to her website).
The effect how she paints already has something transparent, even when you wouldn't paint on glass. If she paints on glass the effect even gets stronger. And then it results in something like this: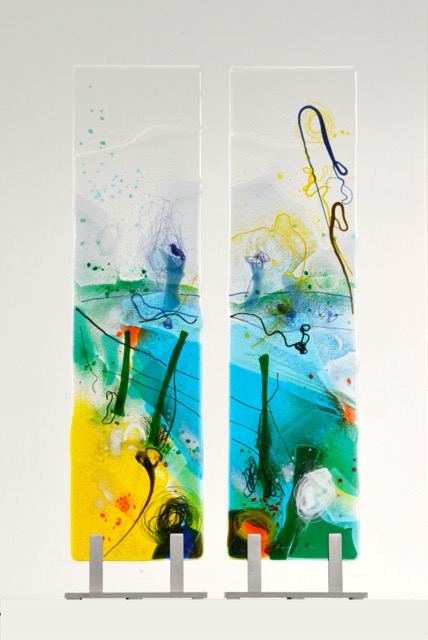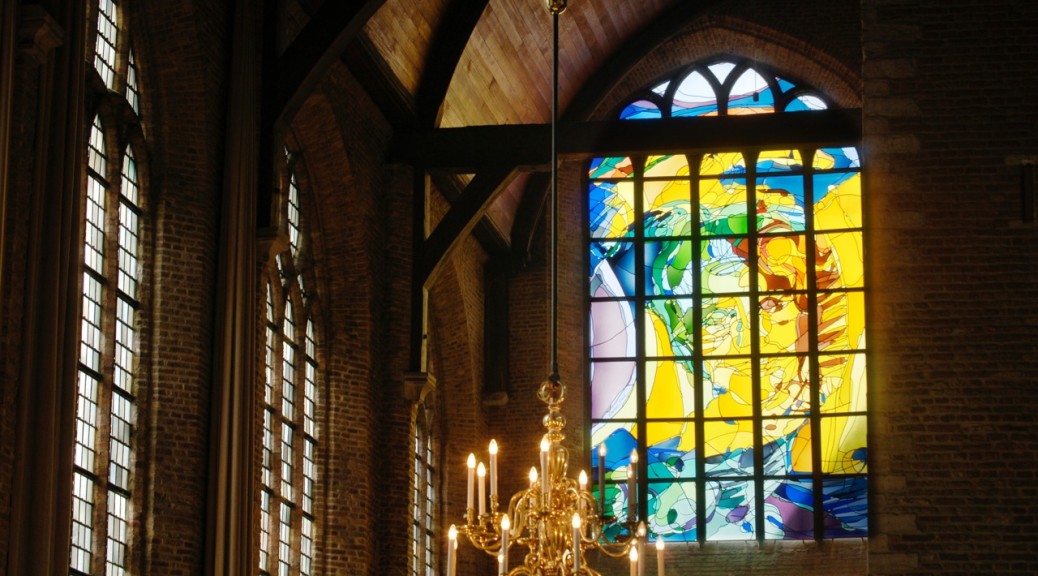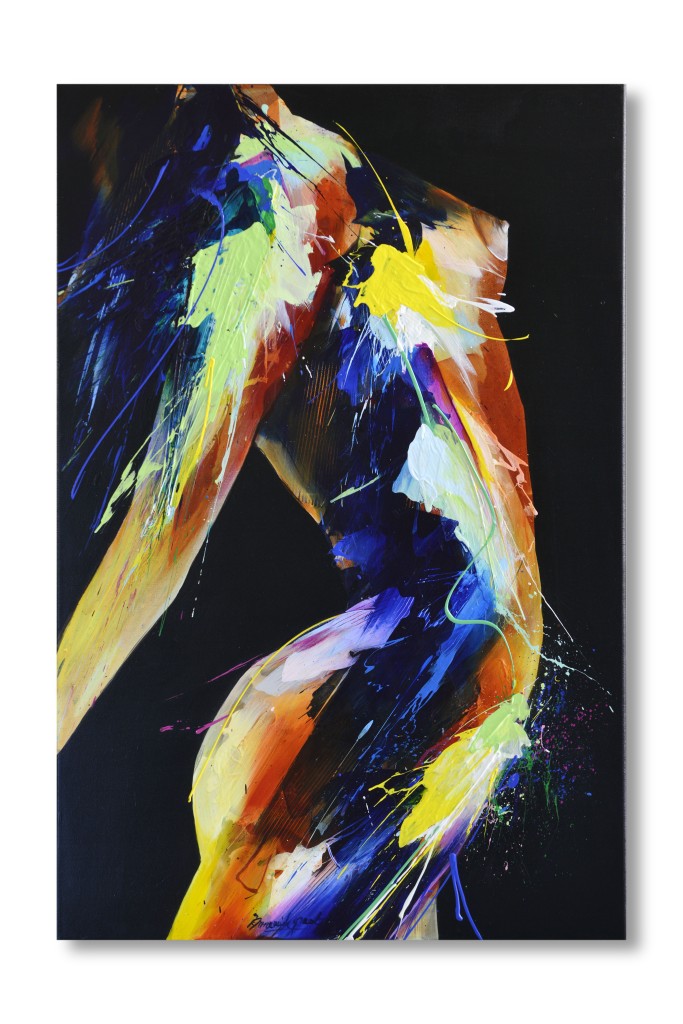 Source pitures above: AnnemiekPunt, Ootmarsum, website
Especially eye catching are the nice bright colors on the objects. On her leaded glass windows (see under projects) she uses precisely warm colors which don't contrast very strong with each other.
When she works it will be dared: not too afraid to add some paint. And to emphasize the transparent effects she uses antique hand blown glass. On her website you'll find out how they produce this glass for her. You will also read there how the artist finally draws up the leaded light on large papers on a scale 1 by 1.
Now is the picturesque village Ootmarsum not really in my area, but if I go that direction again, I certainly will visit her gallery!
Mien Ruys
"Heden is mijn loopbaan begonnen" ("Today my career started"), Mien Ruys (1904) wrote at the age of 19 in her diary. At Moerheim (Royal market gardening Moerheim, before B. Ruys Ltd), in that time her parent's world famous steady plant market gardening in Dedemsvaart, she started careful a designing departure. Soon Mien gave guidance to this, because her interest was not so much breeding plants, but more their practice in garden and landcape. Because the The Netherlands didn't provide education in this particular direction, Mien studied some time in Berlin (Landwirtschaftshochschule) and she followed some trainee periods in England (market gardening friends). professional literature wasn't there at that time.
Source: website (Dutch) Mien Ruys website Dedemsvaart
It's obvious I have to put straight something with the late Mien Ruys. With the light contempt I said about her: The former Mien Ruys garden, you still know them gravel and railway sleepers with variable corners, was functional not possible. - With this I certainly deprive railway sleeper Mien, her nickname.
Mien Ruys, born in 1904, already started working at the age of 19 with her parents in Dedemsvaart. After Berlin and England she studied architecture in the thirties from the professor Marinus Jan Granpré Moliére.
From backgarden to Bureay Mien Ruys
Her first garden at the backside of her parent's home gave a problem. She choosed her favorite plants which needed a chalk rich soil and she put the plants in the some sourish Dedemvaart soil. After a year she could throw away these plants and she made the next principle: choose for plants which belong in the given circumstances. But the garden design she used at that time still is used by popular garden television programms and a lot of garden architects: a straight line to the back, then at the crossing a square with in this a pool to break the path and 2 paths both ways left and right from the same square.
Mien Ruys looked for customers for her garden designs. Where do you go then? Certainly when your designs are for smaller scaled gardens? Guess. The Mien Ruys garden architecture bureau still exists. Just pass the Royal theater Carré in Amsterdam and you find it: the office of Buro Mien Ruys.
Roof gardens and Sedum
A new brench which this burau is occupied with are roof gardens. As well for privately-owned as for business gardens. They work a lot with movable containers or large plant pots with a total design plan for the roof terrace. At firms the so called Sedum roofs are very modern. If you are at Hoofddorp station you see such a kind Sedum roof. With dry weather the Sedum, a succulent plant colors read and the plant gets green again with moisted circumstances. This little plant deals with all kind of weather. Under this Sedum is a layer with granule which hold the water and on which the Sedum flourishes. Under this granule there is a kind of pool foil, this takes care not to have a leaking ceiling. The roof needs first the approval to place such a roof garden: after all a huge weight will come on the roof. Advantge of green roofs: isolation in the winter, you'll hold the warm cilmate and a cooling down in the summer!
Mien Ruys gardens and the future
This year the city Amsterdam decided to repair the garage roof gardens in the Rembrandtspark (not at the statue) and with this also the Mien Ruys gardens with a total budget of 300.000 Euro. Mien Ruys developped quite a lot city gardens for housing companies. A pity is that most disappeared. Sometimes you still find them, but Amsterdam Buitenveldert used to be an garden oasis. In zeeburg (in Amsterdam) the Mien Ruysplantsoen (public garden) is enriched with a straight lined sitting area, fitting to her idea of straight lines.
Garden architects, building architects, garden television programms, Mien Ruys base is still used by them now and in the future.
And if you look in most gardens you'll encounter another less beautifull version of the Mien Ruys Grion tile, no not the railway sleeper, but the Grion tile or better known as nowadays the gravel tile. Mien Ruys used less sharp colors and softer grile, but she started with this anyway. Mien Ruys garden designs ar certainly assured of a place in the coming garden architecture.
Might you happen to be around in Demdemsvaart in spring or summer, have a look at her gardens!
W. Eugene Smith - More Real than Reality
Exposition was until March 16th, 2011, FOAM Amsterdam
First thing you think with the name Eugene Smith, where did I came along his name? Then you read the introduction, of course: the magazine Life! This amazing photographer made jewels of photographs. You feel the harsh times people had to deal with and yet his photographs have something romantic.
But don't fool yourself with the romance. He obviously made this real life pictures to send a message of the existence, he did not make this only for the great pictures. He certainly wanted a change in society.
Good works are on the photographs: nurses, doctors in the midst of poverty. Some photographs make you ashamed: our past with coloured people, who worked hard and had a poor life.
But what surprised me the most: a far past which got alive again, long before I was born, just for a while.
In this FOAM exposition you'll find photographs from the series: Nurse Midwife, A Man of Mercy, Spanish Village, Pittsburgh and Minamata.
Passion for Perfection
Mirrors in an exposition round all subjects. You have to get used to it for a while. You didn't came to look at yourself! But what a great effect has this to the location: the New Church in Amsterdam to look this through mirrors: very special!
Special is also the right word for the new exposition: Passion for Perfection. Who could think say 100 years ago rich colorful Islamic attributes could be seen in a church in the Amsterdam center?
Colurful? Yes, colorful! That's what amazed me. Once influences all over the world made the most beautiful glass works, vaces, embroyderies, wall tiles, wood objects and illustrative Hadiths.
Choir
In the center of the church, the choir, you hear soft Islamic prayers and you look at beautiful handpainted golden calligraphy, amazing the patience they had for this. I didn't have the patience to look too long at this. Because I knew there was more at this exposition.
Glass, wood and lacquerwork
The glass work is the most attractive object too look at in this exposition. Especially when it is surrounded by mirrors at all sides. It gives you time to study these wonders even more. Some glass objects are very old, but amazing beautiful in quality. The fine woodcarving of a coffin looks a puzzle to me, amazing how they did this. The lacquerwork shines to you even more with the mirrors!
Prof. Nasser D. Khalili
Amazing how this man gathered this collection of 500 objects form all over the world. Looking to the art objects you know he loves his work!
This exposition is probably most suitable for real fans of art objects. It's not the most general exposition the New Church had, but it's worth to visit!
Let's take LED lights!
Over to Led lights...
compact fluorescent broke?
Ledlamp in you room!
millions
saving Pounds or Dollars
millions pounds less
CO2 emission

It's not common I deal with a social issue on my webpage, but this time it's too relevant not to discuss this with you. In media global warming is a hot issue since Al Gore shows his presentation all over the world.
Most weird thing is we don't always look at our own environment, our home, to reduce co2 emission. Investing in LED's (light) is more expensive then the lamp bulbs before, but it appoximately survives several times a bulb and what is very interesting: saves a lot money yearly. What good is to your planet is good for your wallet!
Dutchhomepage.nl supports this Greenpeace action. This means the webmaster doesn't have any lamp in his house above the 12 Watt. In the evening I only put on the necessary lights.
Another way is I reduce electra by having extra switches at electra plug box which I switch out not using my electric devices. Of course there are a lot more tips at the Greenpeace website, look at their website.
I ask you kindly to think about this. If we want to give the children a future, we need to give our planet a future. Why not going to the shop to buy LED lights? If you think it is too expensive for you, just start with one this year and buy every year a new planet saver!